Furniture: Farm Table Bench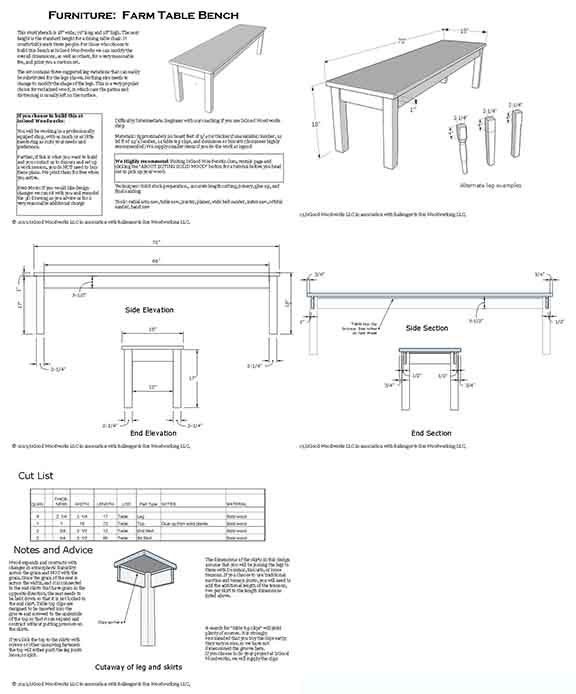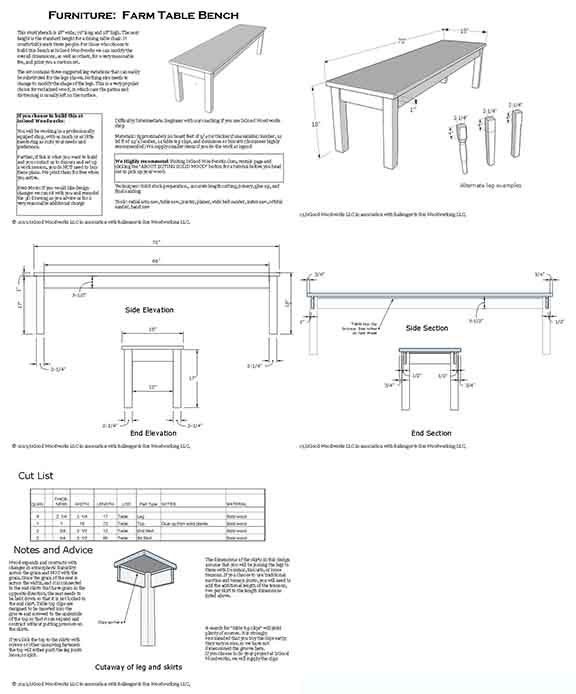 Furniture: Farm Table Bench
This sturdybench is 18" wide, 72" long and 18" high. The seat height is the standard height for a dining table chair. It comfortably seats three people. For those who choose to build this bench at IsGood Woodworks we can modify the overall dimensions, as well as others, for a very reasonable fee, and print you a custom set.
The set contains three suggested leg variations that can easily be substituted for the legs shown. Nothing else needs to change to modify the shape of the legs. This is a very popular choice for reclaimed wood, in which case the patina and distressing is usually left on the surface.
Difficulty: Intermediate. Beginner with our coaching if you use IsGood Woodworks shop
Materials: Approximately 20 board feet of 5/4 (or thicker if unavailable) lumber, 12 bd ft of 12/4 lumber, 14 table top clips, and dominoes or biscuits (dominoes highly recommended) We supply smaller items if you do the work at isgood
We Highly recommend Visiting IsGood Woodworks.Com, rentals page and clicking the "ABOUT BUYING SOLID WOOD" button for a tutorial before you head out to pick up your wood.
Techniques: Solid stock preparation, accurate length cutting, joinery, glue up, and final sanding
Tools: radial arm saw, table saw, jointer, planer, wide belt sander, miter saw, orbital sander, band saw